Pump, Valve & Fluid Handling System Repair Services in Waterford, Michigan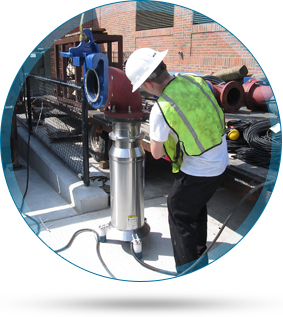 Fluid Handling System Design and Installation in Michigan
Do you need professional design and installation services for a large-scale fluid handling system? JETT Pump & Valve, LLC will support your competitive advantage, reduce downtime, increase productivity, and most importantly, extend the life of your system. Warranty repair & equipment leasing is available, all with a high degree of professionalism and endorsed by our guarantee of satisfaction.
---
Emergency Pump, Valve, or Entire Fluid Handling System Repair in Michigan
Available 24 hours a day, 7 days a week, our customers have come to expect responsible, prompt, and professional field service technicians. Our crane trucks represent a history of on-site accomplishments, from troubleshooting, repair and installation to performance and reliable consultation. Our crane trucks are fully equipped to help you get up and running when you need it most.
While the definition of service varies with every job, critical elements always include:
Having the right pump or repair part in stock for immediate delivery.
The ability to build a pump unit or a complete fluid handling system.
In-house and/or field repair services.
Inventory, shop and repair facilities.
Factory trained technicians.
Fully equipped service trucks.
We are the Midwest factory authorized Crane Pumps & Systems repair facility, however, we repair all brands of pumps with our vast expertise and unmatched skill. Here are some of the other brands that we have successfully repaired: Fairbanks Morse, ABS, Warren Rupp, Wemco, Delaval, Rothman/Gusher, Ebara, Hydromatic, Flyght, Weinman, Allis Chalmers, Crown, Bell & Gossett, Goulds, Deming, Smith & Loveless, Vaughan, Sta-Rite, EMU Davis, Carry MFG and E-One.
---
Why Choose Jett Pump and Valve?
On site 24/7 repairs.
Fleet of Service trucks with & without cranes.
Personnel trained in confined space entry - certified.
Over 80 years of collective wastewater systems experience.
Service & repair any size, make & model of pumps & motors.
Service & repair any size, make & model of valves and actuators.
Complete in-house machine shop.
We have the ability, along with the experience, to service and repair any problem presented. From design to complete construction of million dollar WWTP.
Able to install any of our partners needs, from floats to complete treatment facilities. Including replacement of grating, ladders, hatches, electrical, vents, etc.
Analyze and design improvement to partners lift stations & systems.
Maintain partner's equipment.
Conduct/recommend partner's preventive maintenance program.
Non-biased assessment of partner's equipment/repairs/systems.
Experience in residential grinder stations, pre-manufactured communities water/waste systems, industrial and construction markets.
Provide our partners with at least a 12-month warranty for material and workmanship.
We understand the municipal marketplace and can work within your budget and funding.